This week, Sandwell Council welcomed six delegates from Hangzhou in China.
Our guests came as part of a wider four-day, self-funded research trip to the UK. They visited Sandwell to see how a UK local authority functions and how it provides social services for residents. As deputy directors for municipal departments looking after veterans' services, they especially wanted to learn about veteran welfare services in our area.
In turn, we were keen to build on our established relationship with our Hangzhou visitors' region of China. We are always looking to raise Sandwell's international profile and explore further ways to establish cultural, economic and academic links between here and the rest of the world.
About Hangzhou, China
Near to Shanghai, Hangzhou is the capital of Zhejiang Province. It borders the Yangtze River and has hills to the west.
The Hangzhou Economic and Technological Development Zone became a national development zone in 1993. It has five pillar industries: machinery and electronics, biology and pharmaceutical, high-tech chemistry, textile and chemical fibre, and food processing.
The visit to Sandwell
The Sandwell Business Growth Team was responsible for hosting our guests' visit to Sandwell Council. In preparation, we engaged with partner organisations Black Country Chamber of Commerce and the Ministry of Defence, as well as our council colleagues involved with homes, communities and public health. We also carried out fact funding into local support for ex-force personnel and veterans, to help our visitors get useful information from their visit.
Xu Huashui, Wang Jiang, Xu Jianxiang, Lu Qiliang, Liu Hongyin and Lan Hongxing came to see us at Sandwell Council House on Tuesday 24 October. We hosted them in the Mayor's Parlour where Shokat Lal, chief executive of Sandwell Council, held a welcome speech. Jenna Langford, our Regeneration Manager, was among the people to make a presentation. She focused on Sandwell Council's business support, our borough's regeneration pipeline, and inward investment. We also heard from representatives from the Armed Forces Covenant and Stepway, organisations supporting military veterans in civilian life.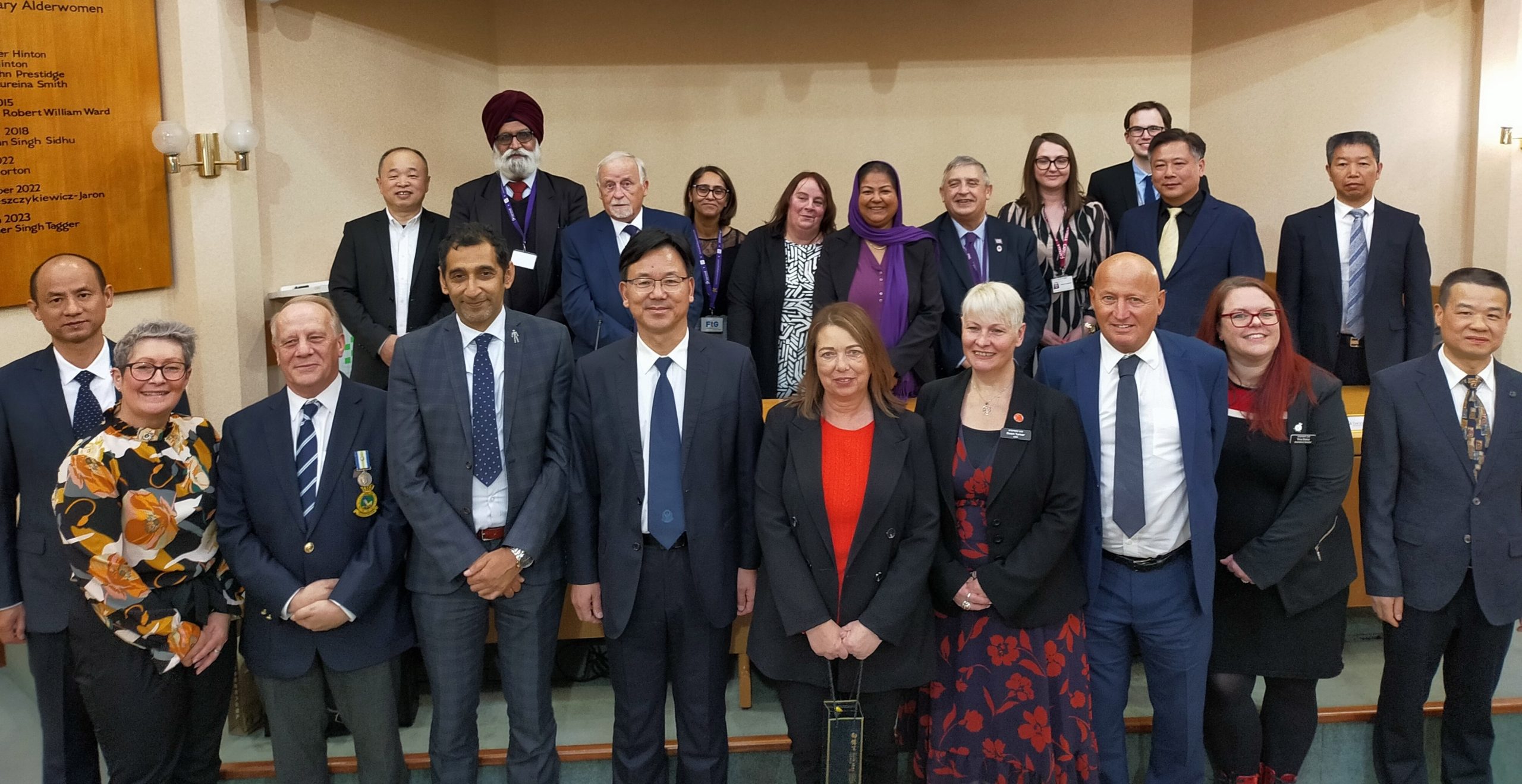 Previous visits from China: a timeline
2015: Sandwell Council welcomed its first Chinese delegation from Pengzhou City.
2016: We had our first visit from delegates from the city of Jinhua. Jinhua Municipal People's Government Mayor, Ji Junmin, and the Leader of Sandwell Council signed a Friendship Agreement. This is to promote friendly exchanges between the two regions and an exchange of cooperation in economy, trade, science and technology, culture, education, sports, health and personnel for the good of common prosperity and development.
2017: In May 2017, delegates from the Shanghai municipal government made a visit to the borough.
2018: In 2018 we had a return visit from the city of Jinhua to strengthen our business and friendship links.
2019: In July 2019, Sandwell hosted a visit from two Jinhua schools. St Michael's CE School in Rowley Regis and one of our Q3 Academies welcomed school children and their teachers. They enjoyed activities together that included a visit to Ingestre Hall Residential Arts Centre and Sandwell Valley Park Farm.
[Feature picture: Xu Huashui from Hangzhou exchanges cultural gifts with Councillor Kerrie Carmichael, Leader of Sandwell Council.]
You might be interested in